Passive real estate investing refers to a strategy in which an individual invests in real estate without actively managing the property or the investment. This means that the investor does not take on the responsibilities of a landlord or property manager, such as overseeing renovations and maintaining the property. If the property is held long term for rental income, the passive investor does not have the responsibility to find tenants and collect rent.
Passive Real Estate Investing Income and Profits
Instead, the investor relies on a third party, such as a property management company or real estate investment trust (REIT), to manage the investment on their behalf. Passive real estate investing allows investors to earn income from their real estate investments without the time and effort required to manage the property themselves.
Passive investors receive income and profits based on the performance of the investment. Depending on if the property is a rental or a value add quick resale, the cash flow and profits can be distributed monthly, in several payments, or one lump sum when the property is resold.
Putting Your Money to Work With Passive Real Estate Investing
Real estate investing takes time if you are an active investor. By co-investing in a professionally managed real estate fund or syndication, passive investors enjoy profits without a big time commitment.
Passive investing creates cash flow and profits by putting your money to work. This is the path to acquiring and growing wealth.
Metro Atlanta Houses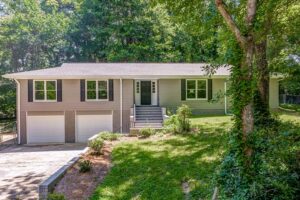 Alpha Dog Capital has been investing in the Atlanta housing market since 2010 when home prices were at the bottom. We have learned to profit under every market condition. Our preferred strategy is fixing and flipping single-family houses for capital appreciation.
Book a Call
Visit our contact page to contact us or schedule a call with John Marion to learn more:
https://calendly.com/johnmarion/alpha-dog-capital-intro-call