The post-coronavirus world should be ripe for profiting with single-family house (SFH) rehabilitation projects for the next five years and beyond.
It should be noted that the old adage often repeated about real estate – "location, location, location" – is especially true in this case. SFH projects will perform over the next five years in the right locations. Here are four reasons this is true.
​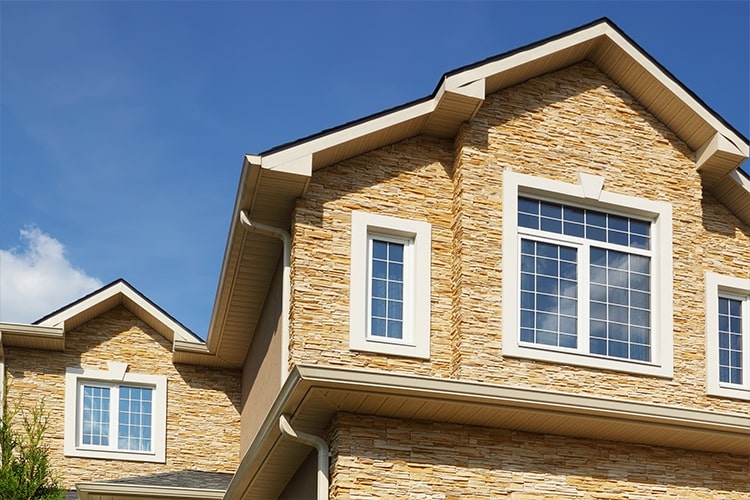 One: Population Increase
While the rate of population increase in the United States has been slowing, the rate of population increase to suburbia is accelerating due to the combination of technology and COVID-19.
*See report, Pandemic population change across metro America: Accelerated migration, less immigration, fewer births and more deaths, https://www.brookings.edu/research/pandemic-population-change-across-metro-america-accelerated-migration-less-immigration-fewer-births-and-more-deaths/ accessed 11/15/2021.
The trend away from dense, urban centers began before the pandemic. This decline has accelerated since. Many employees have realized that they can earn a living by working at home or commuting to satellite locations outside the big city centers.
Obviously, as the population increases in an area, so does the housing demand. These are the areas where investors should expect to profit by renovating distressed single-family houses in order to meet the increased demand for housing.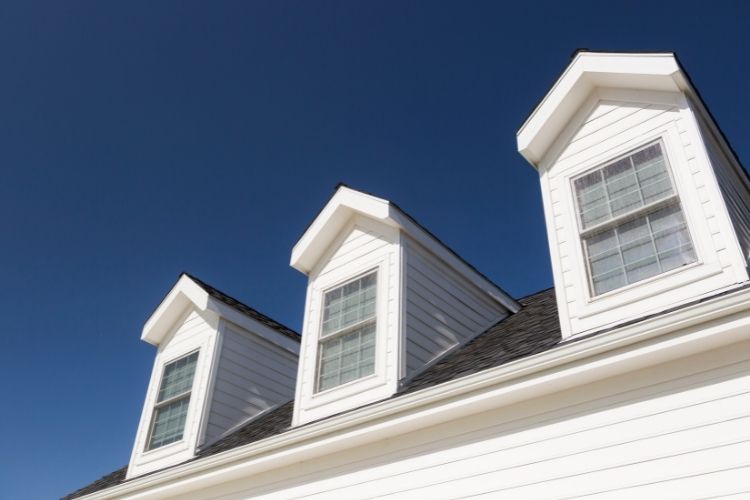 The South
The southern United States is a good place for investors to look for profits in SFH projects.
A 2021 United States Census Bureau report explains how they track both the population of young people (under 18 years old) and the adult population. Of the various regions in the United States, the increase of both groups is happening only in the South:
"Only the South maintained growth in both age groups from 2000 to 2010 and 2010 to 2020: The young population in that region increased by 2.2 million (8.7%) and by 0.6 million (2.1%), respectively."
Source: U.S. Adult Population Grew Faster Than Nation's Total Population From 2010 to 2020, https://www.census.gov/library/stories/2021/08/united-states-adult-population-grew-faster-than-nations-total-population-from-2010-to-2020.html, accessed 11/15/2021.
Also see this page from Freddie Mac: http://www.freddiemac.com/research/insight/20210128_population_growing.page
Location
Of course, not every location in the South is ideal for single family house renovations: some are experiencing a stagnant local economy or population decrease. However, many rural and suburban areas near small cities are experiencing population increase by migration.
It's wise to focus your SFH investments in the areas that are experiencing population increase and revitalization around small cities and towns, where walkability is an important feature. (Remember, a high percentage of the new residents are former "city folks.")
Two: High Demand for SFH
Single family homes are the most popular housing type in the United States. Of the 122 million occupied housing units, 62% are detached single-family houses while 6% are attached single-family units (townhouses). Additionally, another 7.5% are small multi-family buildings consisting of 2-4 units each. This category of multi-family buildings is eligible for traditional mortgage lending for an owner occupant to live in one of the units.
It's clear that most Americans prefer living in single-family houses and townhouses. These housing types make up 68% of occupied housing units in the United States while only 14% are apartment complexes of 10 or more units.
NOTE: There is an easily obtainable, yet erroneous, statistic online that states there are 208 million single family houses in the United States.  However, according to the U.S. Census Bureau, the total number of housing units of all types – single-family and multi-family – is 140 million.
If you talk to any real estate agent who has been active in the business since 2020, they will tell you that there is a housing shortage. According to the National Association of REALTORS, The Housing Crunch is Real (See https://www.nar.realtor/on-common-ground/the-housing-crunch-is-real).
New home construction and newly renovated older houses are both needed to meet the high demand for housing by buyers in areas of population growth where single-family houses are in demand. In the Atlanta, GA market, over 80% of residential sales in the past 13 years have been detached single-family houses compared to attached housing units of both townhouses and condos. Most people prefer living in a detached single family-house.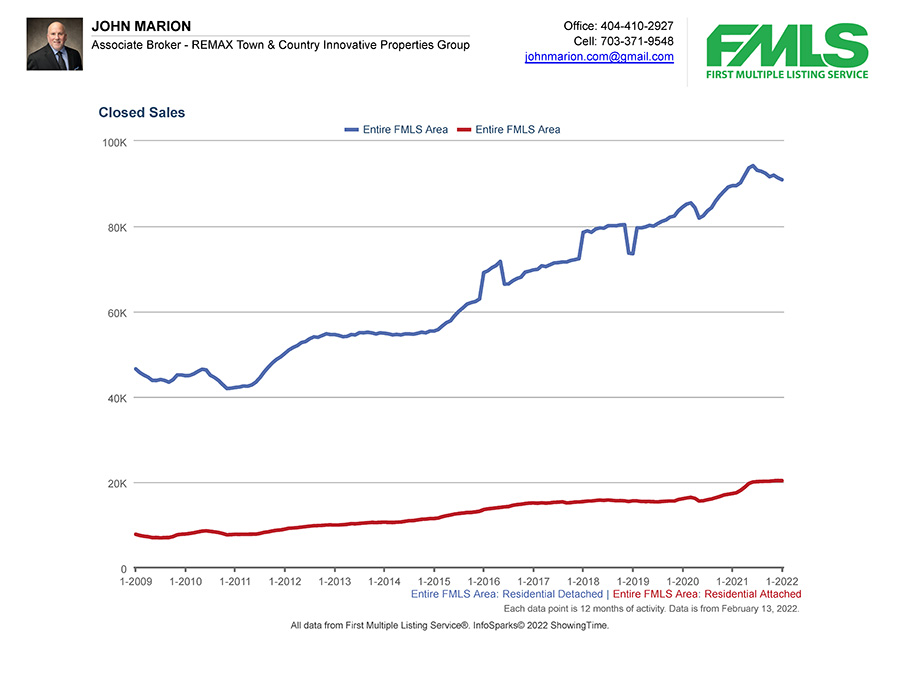 *The table above shows the number of home sales since 2008 in the Atlanta, GA market for detached single-family houses (blue line) and attached townhouse and condos (red line).
All data indicates that there is high demand for housing of every type, especially single-family houses. The demand for single family houses is unlikely to decrease significantly in the near- or long-term future.
Three: Time Produces Distressed Properties
Houses deteriorate over time. Owners are required to continually maintain their home but there are always people who don't keep their property in good condition.
Given enough time, with little or no maintenance, a house will get into a state of disrepair. After a few years even new homes show signs of wear and tear. This creates a continual source of potential deal opportunities for investors.
The International Association of Certified Home Inspectors lists the life span of materials and components of a house. (Source: InterNACHI's Standard Estimated Life Expectancy Chart for Homes, https://www.nachi.org/life-expectancy.htm accessed 11/24/2021)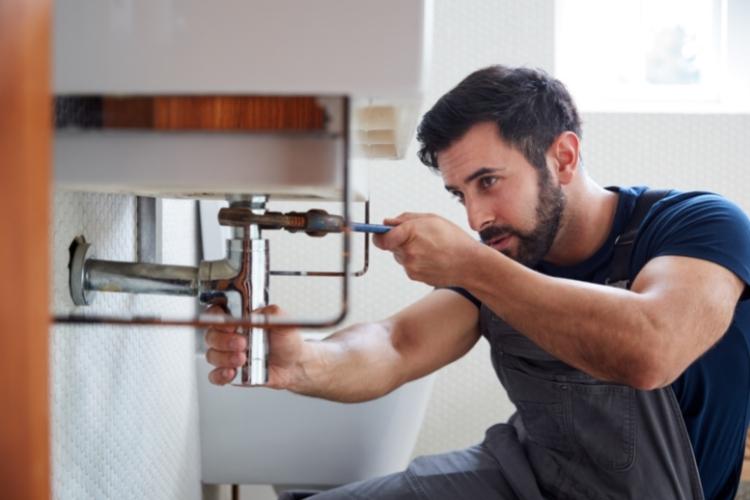 According to the list, after only 5 years, a new home is in need of repairs, updates, and replacement of some components and appliances. After 10 to 15 years, many items need to be addressed in order to keep the home properly maintained. A certain percentage of home owners cannot keep up.
Cities and subdivisions with a significant number of housing units that are over 15 years old will have many homes in need of repairs and updating.
Vacant houses deteriorate even faster than occupied houses. When the house is not climate-controlled, the state of disrepair accelerates. Wildlife find it easy to take up occupancy when no one is home to chase them away. These critters cause further damage to the house.
There are always homes that are in need of updating and repairs.
Four: All Market Conditions Are Profitable
For more details about this topic, see How to Profit Flipping Houses in Any Type of Market: https://alphadogcapital.com/how-to-profit-flipping-houses-in-any-type-of-market. Here's a summary.
The SFH real estate market in any given location is either going up, down, or sideways. With the right strategies, you can profit from house flipping in any of these market conditions.
A tri-fold strategy of buying at a discount, staggering the acquisitions, and having more than one exit strategy per property helps secure profits even in a declining market and mitigates against the risk of losing capital due to sharp downturns and black swan events.
Buy Discounted Houses
Buying at a discount means acquiring houses in disrepair in order to add value by performing renovations and making upgrades. In order for the numbers to work, you have to be all-in (purchase price plus repair and holding expenses) at a cost of 80% or less of the after-repair value (ARV).
The holy grail of discounts for investors is 65% of ARV but many projects work at 70% to 75%. In any case, 80% should probably be the least discount of any property for a fix and flip project.
The goal is to buy at the right price to maximize profits and offset negative market changes that may take place while the house is being renovated.
Stagger Acquisitions
House flipping should happen fast. Staggering the acquisition of properties and performing the work quickly on each project for a fast resale reduces the risk of capital loss from a change in market conditions.
By doing this, all of your capital is not in one deal which is dependent on one point of time for profitability. Deploying capital at different times while simultaneously securing profits by exiting previous deals, enables one to adjust to changing conditions quickly on a deal-by-deal basis.
As housing values change, you can stabilize profits by acquiring properties at a price that make sense in each market condition. This is a much smarter way than deploying all capital at one point in time while depending on the market to stay stable or hoping for a sudden increase in housing values.
Employ Multiple Exit Strategies
Having more than one exit strategy is an additional way to reduce risk in the event of a market downturn or black swan event.
A good alternate exit strategy for a fix-and-flip house is to turn it into a rental for monthly cash flow income. This is especially true of houses priced at or below the median price point. The property can then be sold to another investor with the tenant in place or resold in the future when housing values increase.
Conclusion
Looking out toward the horizon to predict exactly what will happen in the post-pandemic housing market is risky. However, it's reasonable to expect that single family house flipping will remain profitable when managed properly by experienced, active investors.
Sign Up
The first step to invest with us is to fill out our Interest Form. We'll connect and discuss your goals, then we'll find the best investments to help you meet these goals. Invest and Enjoy
After you invest you can just sit back, relax, and receive quarterly cash flow payments from your passive investments.